A customer dashboard has the power to provide pivotal insights into a business, allowing decision-makers to adopt practices that will boost the growth of the company. Customer dashboards help you understand your customers' activities in a new light, ultimately facilitating data-driven decisions.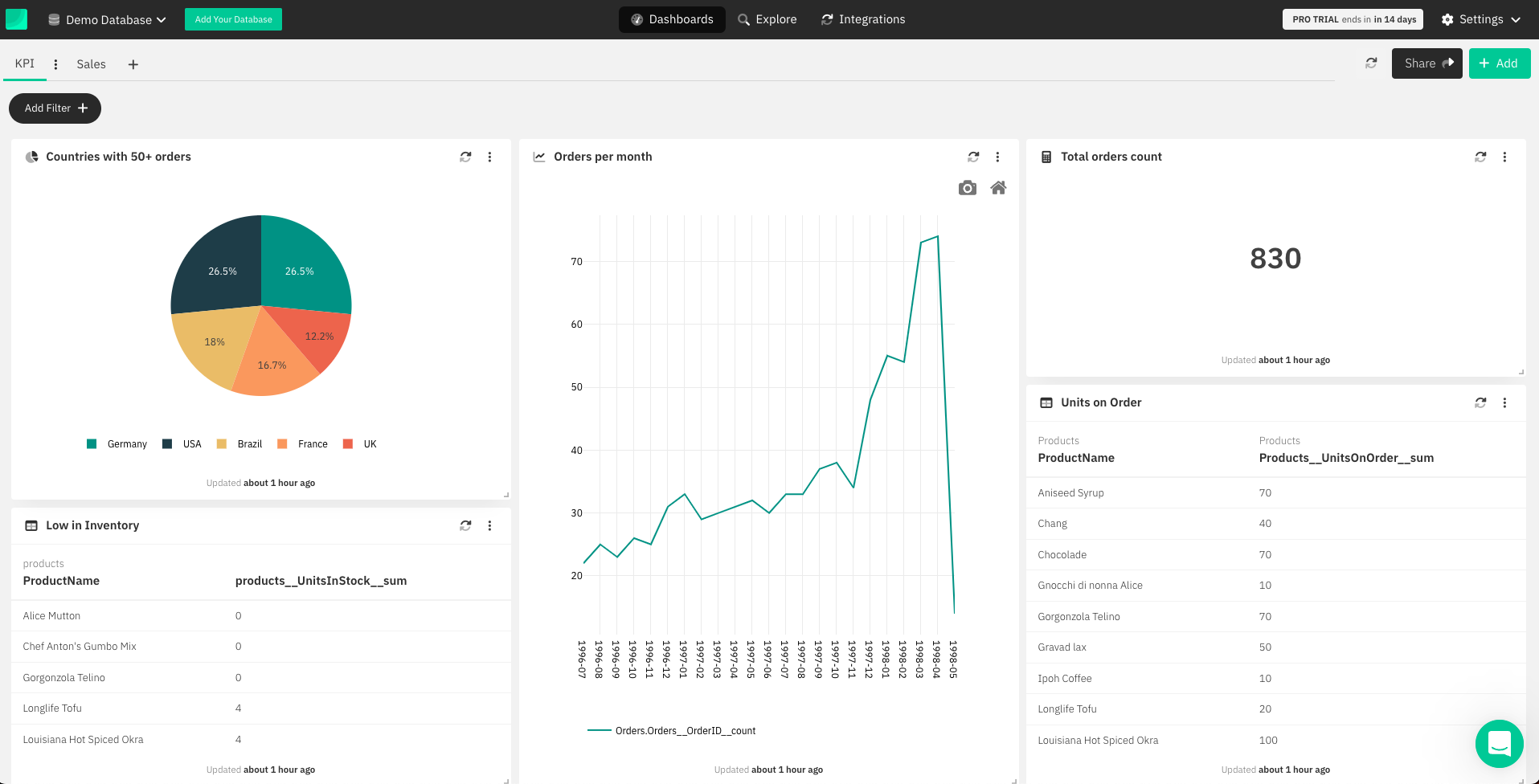 ---
Let's begin with understanding Customer Dashboards.
Every business, irrespective of its size, has numerous data points. Using a customer dashboard, a business can gather this data from several sources and consolidate it in one location to get a broad picture of their customers' experiences. Customer dashboards are helpful for practically any business seeking to benefit from its marketing efforts and data.
If you use numerous marketing channels, you can integrate them into a unified dashboard so that all of your key performance indicators are in one place. Individuals can then easily assess those wide ranges of KPIs and metrics. This places your entire team on the same page and helps them understand what's working and what's not.
However, before we dive into the 5 KPIs every customer dashboard should have, let's have a look at one of the most dependable ways of building a modern-day dashboard.
---
Draxlr: Build Dashboards that Make a Difference!
Draxlr is a platform that helps you build user-friendly dashboards without the hassle of writing code and subsequently empowers you to leverage untapped data points and then visualise as well as monitor them. Simply put, it makes visualisation, analysis, sharing, and monitoring of data easy with live dashboards.
Unlock the Hidden Potential of Your Business with Draxlr:
Quickly build a dashboard from saved essential queries; add queries directly as items.
Easily edit customer dashboard elements such as labels, visuals, etc.
Unlimited number of dashboards to address the needs of every department and project
Leverage data monitoring features, including data modification alerts and API requests.
Use a custom periodic refresh to synchronise the dashboard with your database.
Analyse data through interactive visualization; scroll across, zoom in, and download as PNGs.
Get an instant overview of all your business metrics, arranged together on a single board.
Now that we have established how to build an effective dashboard, let's understand the top five KPIs you must have in your Draxlr Customer Dashboard:
1. Web Performance
A website is the digital face of your business. Every marketing campaign you run usually aims at increasing web traffic. Directing your potential customers to land on your website is just half the work, the second half is to analyse your website's performance and conversion rates.
A few indicators to include could be bounce rate, conversion rate, returning users, unique visitors, pages browsed, total visits, total sessions, and sign-ups. These insights can be further utilised to engage customers proactively and boost conversion rates.
The percentage of visitors that visit your website but leave before exploring a second page is known as the bounce rate
The conversion rate of your website measures the percentage of visitors who perform a desired Call to Action, such as making a purchase, completing a survey, subscribing to a service, or taking a free trial
The total number of times people have visited your website is referred to as visits. The number of unique visitors will reveal how many new people have visited your website.
2. Net Promoter Score (NPS)
The Net Promoter Score is a metric for determining customer loyalty and the likelihood of customers recommending your goods or services. It is calculated by asking a simple question: On a scale of 1-10, how likely are you to suggest us to a friend?
Customers respond to this query by critically reflecting on their overall interaction with your brand; this is one more reason why you should focus on building positive customer experiences. In today's trend-obsessed culture, companies all over the world use NPS as a key performance indicator. After all, the best kind of marketing is the one done by satisfied customers!
3. Email Marketing KPIs
Email marketing is far from dead. It is still one of the most effective methods for contacting prospects and increasing sales. If done correctly, it can successfully assist you in achieving your business goals. And that's all the more reason why it must be a part of the customer dashboard and not something that continues silently on the side. The major performance indicators for email campaigns are open rate, bounce rate, conversion rate, unsubscribe rate, and click-through rate.
4. Customer Retention
Are your customers coming back to make another purchase? Or take that desired action? Are you fostering long-term relationships with your customers?
Customer retention KPIs need to be integrated into the customer dashboard if you want to know how well your company is doing at retaining customers in the long run and generating recurring revenue from them. The benefits of strong customer retention go beyond repeated purchases; this performance indicator reflects the loyalty of your customers towards your brand.
5. Customer Satisfaction Score
Customer satisfaction scores can demonstrate how satisfied customers are with the level of assistance provided or purchases made. You must not only market; you need to deliver as well! And with this KPI on your customer dashboard, you can measure how well your business has delivered on its promise.
You can ask a direct question to determine this, such as, On a scale of 1-10, how satisfied are you with the recent purchase, service, or support?  You must thoroughly assess the negative responses, analyse what went wrong, and work on improving them.
---
Customer Dashboard: Need of the Hour
Building a successful business in this digital era involves innumerable factors, including social networking, strengthening the client experience, maintaining client retention, and much more. The need for KPIs becomes imperative and irreplaceable. And for you to leverage those KPIs, a unified customer dashboard is simply paramount.